Clinical Care Team | VELPHORO® (sucroferric oxyhydroxide)
RESOURCES FOR THE CLINICAL CARE TEAM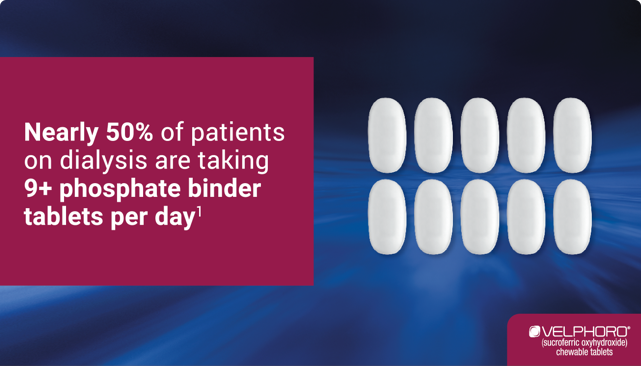 The need for potent phosphate binding*
Renal dietitians share their views on why helping patients achieve their phosphorus goals can be challenging, and how Velphoro, the most potent phosphate binder, may help.1
embed-1
embed-2
embed-3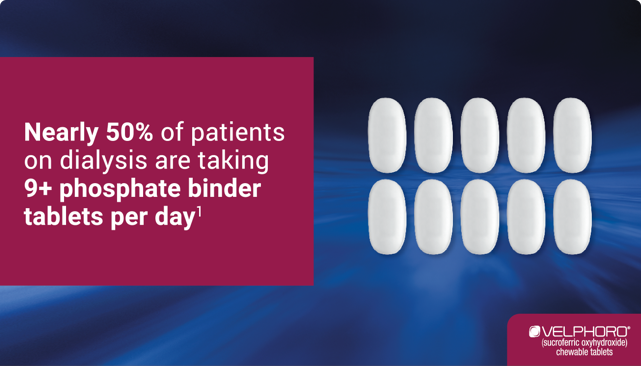 The need for potent phosphate binding*
Renal dietitians share their views 3 on why helping patients achieve their phosphorus goals can be challenging, and how Velphoro, the most potent phosphate binder, may help.2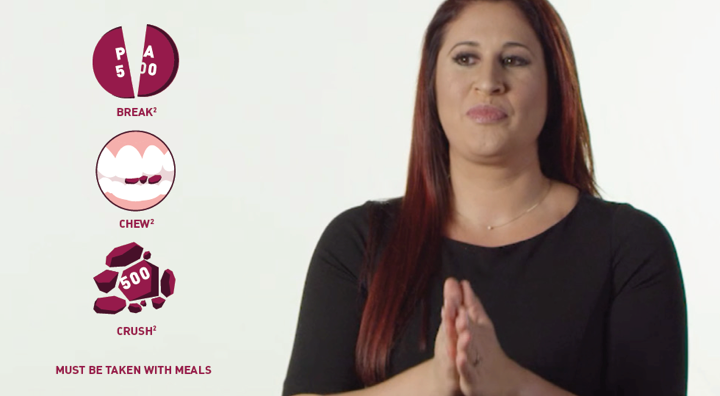 Educating patients on how to take Velphoro*
Hear renal dietitians talk about why they like the flexibility of Velphoro administration,2 and how they educate their patients about the different ways to take it.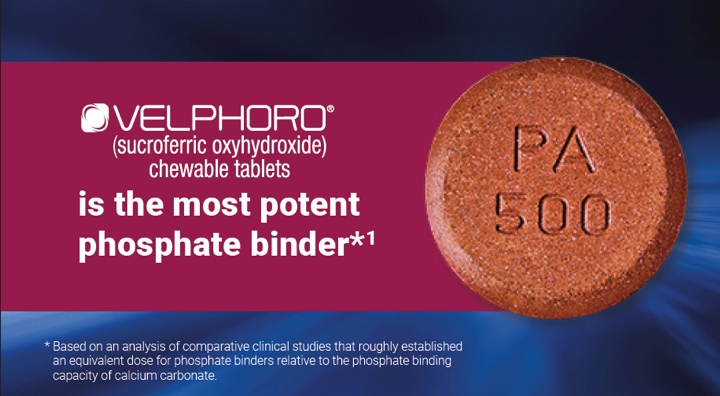 Putting patients in control with Velphoro*
Dialysis and hyperphosphatemia may make some patients feel out of control. Renal dietitians talk, peer-to-peer, about their confidence in Velphoro, and how putting patients in control of how to take it can help.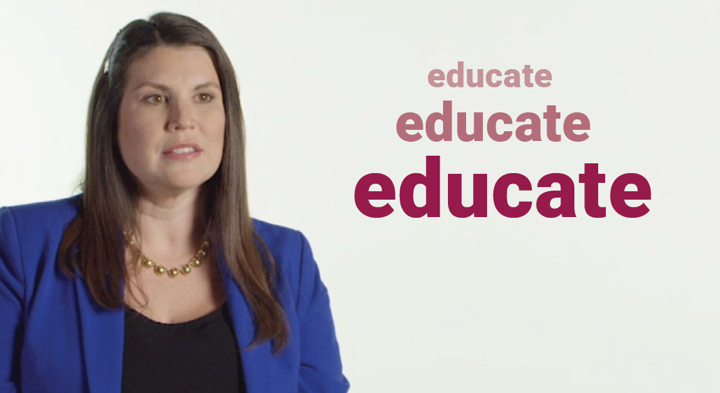 Setting expectations with Velphoro*
Guidance from renal dietitians focuses on giving patients a better chance of success by setting expectations for Velphoro treatment.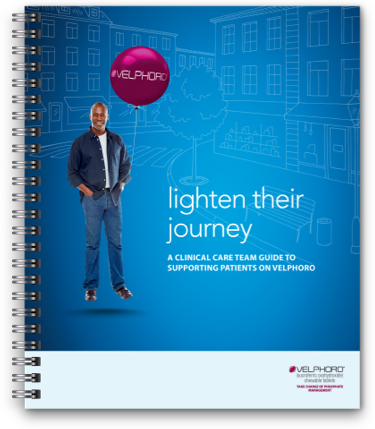 The Clinical Care Team Guide is a comprehensive resource to help support patients. The guide and patient handouts are available from your Velphoro representative. Request a visit today. 
Additional copies of the patient handouts are available (in English and Spanish) and can be downloaded below.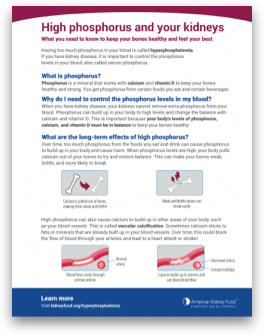 Phosphorus Overview
Helps patients understand phosphorus and the importance of controlling phosphorus levels.
Get the handout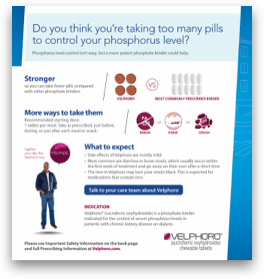 Are You Taking Too Many Pills?
Explains how a more potent phosphate binder can help, and what questions patients should ask you about Velphoro treatment. 
Get the handout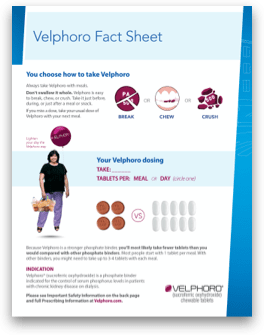 Velphoro Fact Sheet
Provides important dosing and administration information for patients when they're starting Velphoro.
Get the Handout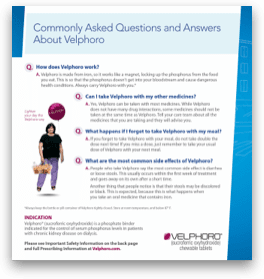 Patient Q&A
Answers commonly asked questions about Velphoro, and links to videos on the patient website.
Get the Handout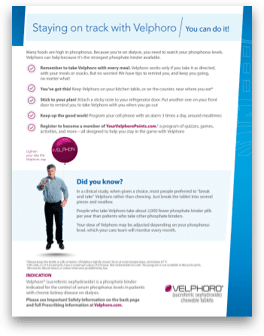 Staying on Track
Supports patients with tips on remembering to take Velphoro so they can stay on track with treatment.
Get the Handout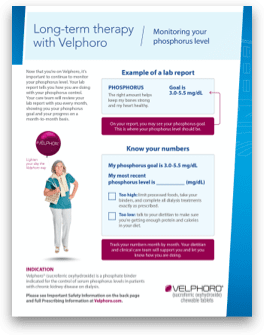 Long-Term Therapy
Provides a primer on phosphorus goals, understanding the phosphorus lab report, and tracking phosphorus levels over time.
Get the Handout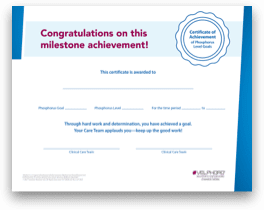 Patient Certificates (seasonal themes)
Recognize a patient's progress toward their phosphorus goals throughout the year.
Get the certificates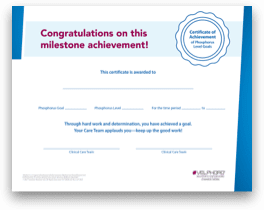 Patient Certificate
Acknowledges a patient's progress toward their phosphorus goal. 
Get the certificate
Register for updates
Stay connected with Velphoro and phosphorus management information customized for you and the patients you counsel
*Presenter is a paid speaker and has been compensated for their time. 
References: 1. Coyne DW, Larson DS, Delmez JA. Bone disease. In: Daugirdas JT, Blake PG, Ing TS, eds. Handbook of Dialysis. 5th ed, Philadelphia, PA: Wolters Kluwer Health; 2015:665-692. 2. Velphoro® [package insert]. Waltham, MA: Fresenius Medical Care North America; 2020.